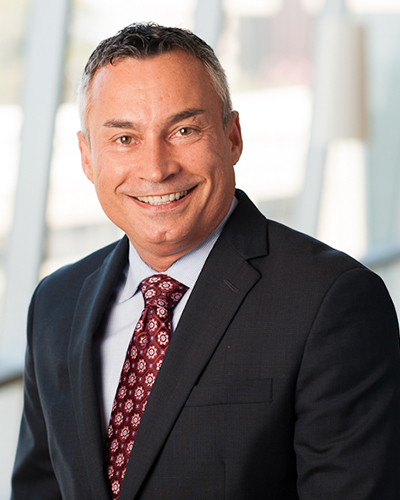 Author E. Hughes Career Achievement Award
Hahn School of Nursing and Health Science
Pablo Velez '06 (PhD)
Senior Vice President and CEO, Sharp Chula Vista Medical Center
Pablo Velez is senior vice president and chief executive officer of Sharp Chula Vista Medical Center, a 343-bed hospital located in San Diego's South Bay. He develops and manages the hospital's budget, oversees long-range plans and develops relationships with physicians and other community leaders that enhance the success of the hospital. Among his greatest career highlights is the $250 million master site plan expansion he's currently overseeing. As part of the expansion, Sharp Chula Vista will add a new hospital in 2019 with capacity for 138 greatly needed patient beds for the growing community it serves. Velez is extremely proud to see it become a reality.
Velez says becoming a nurse is one of the greatest things he's ever done, saying the career fits perfectly with his philosophy of leaving things better than he found them. He enjoys contributing to research and articles, including "Effects of Organizational Trust" in the Organization Development Journal in 2012, and "Do Gender and Race/Ethnicity Influence Acute Myocardial Infarction Quality of Care in a Hospital with a Large Hispanic Patient and Provider Representation?" in Cardiology Research and Practice in 2013.
He's received the: 2010 Association of California Nurse Leaders Excellence in Leadership Award; 2013 Chula Vista Chamber of Commerce Vision and Leadership Award; and the 2014 Chula Vista Chamber of Commerce Outstanding Business Leader of the Year Award. However, his greatest source of pride is the extraordinary employees, physicians, volunteers, board members, donors and community members with whom he interacts every day.