Our Signature Fundraising Event
Funds raised from the Founders Gala provided scholarships to USD's best and brightest students. The scholarships give USD a distinct advantage when competing for sought-after scholars who, through their work and through their service, are leading change in the world.
In 2017, with the date having fallen on Veterans Day, the university paid special tribute to our men and women in military service. Proceeds from the 2017 Founders Gala established a new, endowed scholarship fund in the amount of $500,000 dedicated to student veterans.
The Founders Gala drew more than 600 of the region's most prominent corporate, philanthropic and community leaders, along with university trustees, administrators, alumni and friends. The black-tie event includes a VIP Sponsor Reception, silent and live auctions, an exquisite dining experience, and an unforgettable After Party.

University of San Diego
As a nationally ranked Catholic university, USD is committed to advancing academic excellence, expanding liberal arts and professional knowledge, creating a diverse and inclusive community and preparing leaders dedicated to ethical conduct and compassionate service, to create lasting social change in our global society.
About 70 percent of USD students rely on some form of financial aid. Even more are in need. Proceeds from the Founders Gala support the Founders Endowed Scholarship Fund, providing financial aid to USD's most deserving undergraduate, graduate and law students.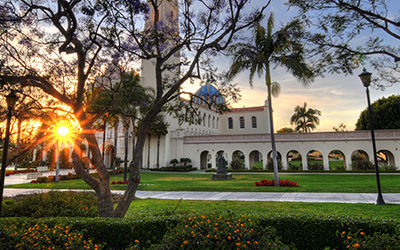 #6 Most Beautiful College Campuses by The Princeton Review
17 NCAA Division I Teams
#17 Best-Run Colleges by The Princeton Review
#18 Top 50 Green Colleges by The Princeton Review
42% Minority Students, Six Percent International Students
Top 100 National Universities by U.S. News and World Report
8,861 Current Students from 69 Countries and 50 States
74,711 Alumni Living in 141 Countries, 50 States, and 65% Living in California