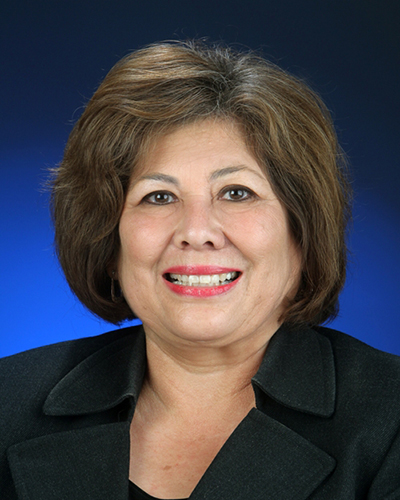 Author E. Hughes Career Achievement Award
School of Leadership and Education Sciences
Cynthia D. Flores '79 (MA)
Campus Director at Coachella Valley Campus, Brandman University
Cynthia Flores has mentored many first-generation students as they pursued higher education. She served the California State University system for 32 years and is now the director of Brandman University in the Coachella Valley.
During her time in the CSU system, Flores served in staff, faculty and management positions. She was the associate dean at CSU San Bernardino's Palm Desert campus for 10 years. For 22 years, she served San Diego State University's Imperial Valley campus in many capacities, including her final role as assistant dean for student affairs.
Teaching was one of the highlights of her career. She loved teaching at the undergraduate and graduate levels and her areas of specialization included: race and racism; multicultural education, community relations and school politics. She also enjoyed supervising internships for teachers and administrators throughout Imperial County.
Governor Arnold Schwarzenegger appointed Flores as a Commissioner for the California State Lottery Commission in 2008, a term she recently completed. Assemblywoman Bonnie Garcia named Flores "Woman of the Year" for the 80th Assembly District in 2007. She has received various awards and honors throughout her career including: Educator of the Year; El Sol De Azteca; and the CSU Diversity Award.
Flores earned her bachelor's degree in psychology from University of California, Santa Barbara, and a master's degree in counselor education from the University of San Diego and a degree in education from Point Loma College of the Nazarene.
Community service has been an integral part of life for Flores. She was elected into public office and served as a trustee for the Brawley Union High School District, her alma mater and is a current board member for the Boys and Girls Club of Coachella Valley. She has served as a regional president of the Boys and Girls Club for the San Andreas Region, as president of the Boys and Girls Club in Desert Hot Springs, and as a board member for the Reynaldo Carreon Foundation.
Flores cherishes her time with daughter Becky, sons Jesse and Gus, and grandchildren Arianna, Bianca, Jessinda, Gus and Bella. She loves to travel, listen to music and cheer for the San Diego Chargers.