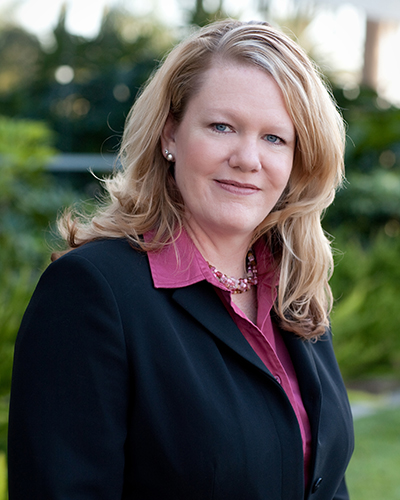 Mother Rosalie Clifton Hill Award
Emilie I. Hersh '00 (MBA)
Chief Executive Officer, InterKnowlogy, LLC
Born in Dallas and raised in Arizona, Emilie Hersh has a 20-year career founded on a range of operations, sales, consulting and project management positions. She received her bachelor's degree in political science at the University of California, Santa Barbara, in 1991. She relocated to San Diego to be closer to family and started her professional career working at the University of San Diego, knowing that a graduate program was in her future.
Hersh earned her MBA, with a dual emphasis in project management and supply chain systems, from USD in 2000 and joined the Global Risk Management Services team at PricewaterhouseCoopers, where she worked with top Fortune 100 companies across the United States. From there, she served four years in leadership positions at Network Insight, which she helped build into a leader in network and systems management.
In 2005 she joined InterKnowlogy, a global technology leader specializing in delivering innovative solutions by leveraging current and emerging technologies. Having led multi-million dollar engagements for global companies, created successful sales teams and built out cross-functional teams focused on exceeding customer expectations, Hersh proved to be an asset to the company and took over as CEO in 2010.
Passionate about the leading-edge technologies and committed to the development of her team, Hersh encourages all team members to pursue the professional opportunities that interest them by creating innovative programs within the company.
As an alumna, Hersh has served more than eight years on USD's Alumni Association Board, where she has successfully increased participation, professional event offerings and the USD network. She has served as a mentor to many graduate business students at both USD and California State University, San Marcos. Hersh also serves on the steering committee for the Technical Affinity Group for Athena, an organization dedicated to women in technology and the life sciences.
Hersh has completed three Susan G. Komen 3-Day breast cancer walks, raising thousands of dollars for a cause that is very important to her personally. She relishes spending time with her daughters, Makena and Sophie, traveling with her husband, Mark '00 (MBA), and looks forward to owning a winery in retirement.