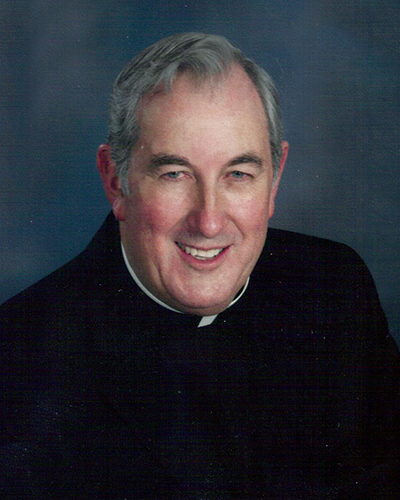 Bishop Charles Francis Buddy Award
Monsignor Mark A. Campbell '76 (BA), '79 (MEd)
Pastor, Immaculate Conception Church, Old Town San Diego
A native of County Longford, Ireland, Monsignor Mark Campbell's seminary training was at All Hallows Seminary in Dublin, Ireland, and at Saint Francis Seminary in San Diego. He was ordained to the priesthood on April 30, 1971. He earned a bachelor's and a master's degree at the University of San Diego and an advanced degree in Canon Law at the Catholic University of America in Washington, D.C.
Since his ordination, Monsignor Campbell has held both parish and diocesan assignments and has served on the Diocesan Matrimonial Tribunal since 1982. Currently, he is pastor of Immaculate Conception Catholic Church in Old Town, San Diego.
Monsignor Campbell serves as a member of the board of directors and as chaplain of Whispering Winds Catholic Conference Center and Camp, where he has promoted and sponsored family camps and youth retreats for families and young people from the inner city and from the Imperial Valley. He also has served on the board of directors of the San Diego Center for Children, Our Lady of Peace Academy and the Mercy Hospital Foundation at Scripps Mercy Hospital. He served for 10 years as president of the San Diego County Jail Ministries, an ecumenical organization that facilitates worship services in the county's detention facilities.
Monsignor Campbell has been chaplain for more than 25 years at the Saint Thomas More Society, an association of legal professionals. In 2001, he was honored as the Saint Thomas More Society Person of the Year. Monsignor Campbell also teaches at the San Diego Diocesan Institute, which offers faith formation and theological education for adults seeking diocesan certification for ministry in the community.
In recent years Monsignor Campbell launched a successful parish outreach program at Immaculate Conception. The program offers resources and assistance to parishioners and members of the community who are in need. Catholic Charities' men's and women's shelters, as well as two AIDS hospice centers in North San Diego County, are among the organizations that receive ongoing support through this parish outreach program.
An avid outdoors person, Monsignor Campbell enjoys hiking and mountain biking in the Lagunas and says a visit to one of the national parks each year is also a must.