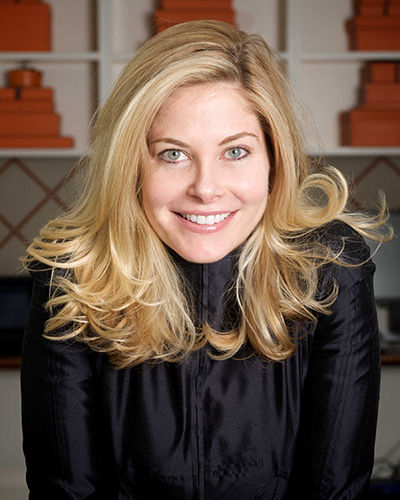 Author E. Hughes Career Achievement Award
College of Arts and Sciences
Sara M. Story '95 (BA)
Founder and President, Sara Story Design
Sara Story's birth in Japan, coupled with extensive travel in the Far East, has influenced her approach to design. Moreover, living in Texas and California further affected her vision of design, resulting in a contemporary, eclectic and timeless aesthetic for interiors.
Story earned her Bachelor of Arts degree at the University of San Diego and received a degree in interior architecture at the Academy of Art University in San Francisco.
She moved to New York City in 2001, where she worked with prominent designers before creating Sara Story Design to infuse her own vision into the world of interiors. Since starting Sara Story Design, Sara has been published extensively in such magazines such as Elle Decor, Forbes Life, O, the Oprah Magazine, Vogue Living and Veranda, and has also appeared on NBC's Luxe TV to discuss design tips and influences.
Story focuses predominately in residential design, working closely with architects and contractors to execute renovation and new construction projects all over the United States. Currently, she is working on a Victorian townhouse in San Francisco, a contemporary ranch house in Texas, a shingle-style house on Shelter Island, a penthouse on Gramercy Park and a loft in Tribeca.
Story has also worked on commercial projects in New York and London. Incorporating the company's technological needs and spatial concerns was a unique process. Integrating unique design elements in a commercial setting was a rewarding process.
She also participated in some of the most respected show houses: the prestigious Kips Bay in New York City; Orchard Hill in Old Westbury Gardens, NY; and Rooms with a View in Southport, Conn.
In the near future, Story will be launching a wallpaper and fabric line and getting more involved in hospitality design. Designing hotels is a perfect way to combine her love of travel and design.
Story lives in New York City with her husband and three children. She is fascinated with learning more about art and is an avid traveler. Her most unusual hobby is playing elephant polo in Thailand with her women's team, sponsored by Sara Story Design.