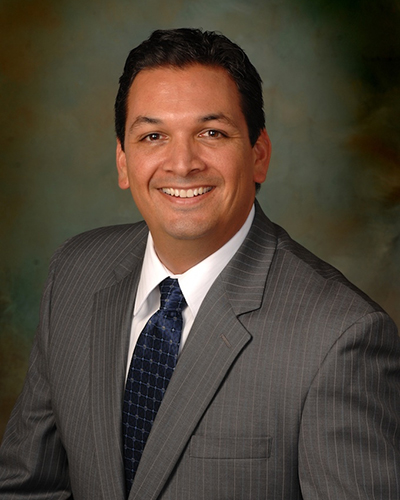 Author E. Hughes Career Achievement Award
School of Leadership and Education Sciences
Arnulfo Manriquez '05 (MA)
President and CEO, MAAC
Arnulfo Manriquez is a 19-year veteran of the nonprofit sector. He serves as president and chief executive officer of MAAC. Founded in 1965, the nonprofit organization is dedicated to Maximizing Access to Advance our Communities.
Prior to being appointed as president and CEO of MAAC, he served as president and CEO of the Chicano Federation of San Diego County. Manriquez has dedicated his career to working directly with underserved individuals, households and communities of San Diego County by promoting self-sufficiency through housing, economic, educational and employment programs. Manriquez is a community-focused individual who has more than 19 years of experience working in diverse and multicultural settings as a leader, participant, panelist, speaker and trainer.
The youngest of five children, Manriquez was born in Mexicali, Baja California, Mexico, and immigrated to the United States with his family in 1981, when he was 10 years old. Now a U.S. citizen, he grew up in San Ysidro and Chula Vista and graduated from Hilltop High School.
Manriquez is an active father of three young children under the age of 11. He earned a Bachelor of Arts degree in urban studies and planning from the University of California, San Diego, in 1993 and a Master of Arts degree in leadership and nonprofit management from the University of San Diego in 2005. As a first-generation immigrant who grew up in San Diego, Manriquez understands firsthand the challenges faced by under-represented communities and is committed to ensuring opportunities for self-sufficiency and safety for families who need it most.
The MAAC Project serves more than 35,000 individuals each year and, since its founding, has touched the lives of more than 1 million clients. Employing over 560 personnel, MAAC staffs 40 sites that provide empowering social services including economic development, Head Start/First Start programs, nutritional programs, low-income home weatherization and improvement programs, two notable and culturally specific recovery programs, technology centers, a state-of-the-art charter school and award-winning affordable housing complexes.
The availability of secure and attractive homes and the development of a community — which provides access to childcare, preschool, recreational activities, computer training, job referrals, and services designed to enhance the livability and viability of the neighborhood — builds pride and self-respect. In turn, this leads to self-development, respect for others and community involvement.