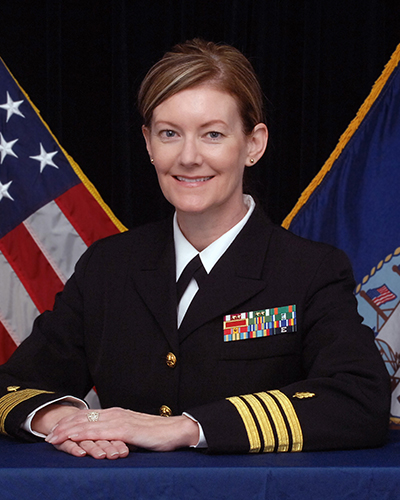 Author E. Hughes Career Achievement Award
Hahn School of Nursing and Health Science
Capt. Jacqueline D. Rychnovsky, PhD, CPNP'04 (PhD)
Executive Officer, United States Naval Hospital, Yokosuka, Japan
A native of Liberty, Mo., Capt. Jacqueline Rychnovsky received her diploma in nursing from Research Medical Center School of Nursing in Kansas City, Mo., in 1981 and held a variety of staff and management nursing positions while completing her Bachelor of Science in Nursing degree. After graduating in 1986, she continued to gain civilian nursing experience in pediatrics as a nurse manager, opening the first suburban satellite clinic for Children's Mercy Hospital in Overland Park, Kan.
Capt. Rychnovsky joined the U.S. Navy in 1990 as a lieutenant junior grade. After attending Officer Indoctrination School, she accepted her first assignment at Naval Hospital Charleston. In 1993, she was sent to the Naval Medical Clinic, Key West, Fla., as the pediatric charge nurse. In 1997, she graduated from the University of Florida with a Master of Science in Nursing degree. As a board certified pediatric nurse practitioner, she served her next tour in the pediatric clinic in Jacksonville, Fla.
In 2001, Capt. Rychnovsky returned to school at the University of Diego where she received the Honorary Irene Sabelberg Palmer Scholarship Award for Academic Achievement. In 2004, she earned her Doctor of Philosophy in Nursing degree. She served as head of nursing research at the Naval Medical Center San Diego and served a six-month tour as the head of inpatient nursing at Camp Arifjan, in Kuwait. Following her deployment, she completed a Health Policy Fellowship in the office of Senator Daniel K. Inouye (D-HI) with a follow-on tour as the assistant director for nurse corps policy and practice, where she worked for the Navy nurse corps director and Navy surgeon general at the Bureau of Medicine and Surgery, forming nursing policy and practice. She is currently the executive officer of US. Naval Hospital in Yokosuka, Japan.
Capt. Rychnovsky is board certified as a pediatric nurse practitioner by the Pediatric Nursing Certification Board. She serves on the editorial board of the Journal of Obstetric, Gynecologic and Neonatal Nursing and is a member of the Association of Women's Health, Obstetric and Neonatal Nurses and the American Academy of Nurse Practitioners.