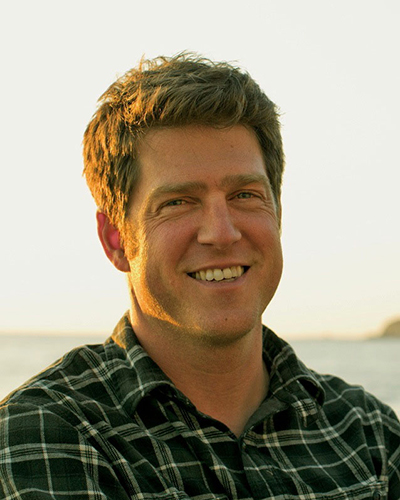 Author E. Hughes Career Achievement Award
College of Arts and Sciences
Timothy Lynch '95 (BA)
Executive Producer, Woodshed Films and Farm League
As co-founder and executive producer of Farm League and Woodshed Films, Tim Lynch has traveled across the globe to create award-winning film projects that both capture high-spirited adventure and inspire environmental stewardship. Also an esteemed video producer, Lynch has helmed a number of groundbreaking music videos — including the winner of the 2005 MTV Video Music Awards' Video of the Year, Green Day's "Boulevard of Broken Dreams."
After earning his communications degree with a minor in environmental studies from the University of San Diego, Lynch moved to Los Angeles to pursue his filmmaking career. Veering away from conventional production companies, Lynch took part in a series of independent projects that allowed him to develop and diversify his craft. With nearly 10 years of production work under his belt, Lynch joined forces with visionary filmmakers the Malloys and Thomas Campbell to form Woodshed Films in 2003.
Born from its founders' collective love of surfing and the ocean, Woodshed Films specializes in documentaries that recount unique and exhilarating experiences of surf adventures — all while subtly illuminating the need to protect oceans and wild spaces around the world.
Lynch also waded into the world of music. In addition to his work with Green Day, which nabbed a Grammy nomination for with Lynch-produced "American Idiot" video, he's served as producer on videos for heavy-hitting acts such as Black Eyed Peas, Weezer, My Chemical Romance, Ben Harper, and Jack Johnson.
An accomplished commercial producer as well, Lynch partnered with ad-agency producer Tieneke Pavesic in 2011 to launch Farm League, a company that creates trailblazing commercials and branded content for the likes of Ford, Nike, and Barefoot Wine.
A father of two, Lynch married his college sweetheart Jennifer Lofftus and now resides in Santa Monica. This year will see the release of his latest film, "Big Easy Express," a music documentary about 2011's "Railroad Revival Tour" which chronicles three bands as they travel by train from San Francisco to New Orleans playing shows. The film reminds us that the landscape, the experience and the journey are often found between destinations.