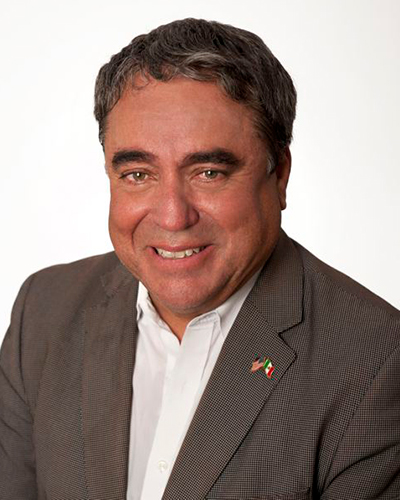 Bishop Charles Francis Buddy Award
Enrique Morones Careaga '02 (MSEL)
President/Founder, Border Angels
Enrique Morones Careaga was born in San Diego, but has always been proud of his Mexican roots. His parents, both born in Mexico, instilled in him strong family and spiritual values. His Catholic school education played a key role in his work as president and founder of Border Angels, a nonprofit organization established in 1986 to prevent the deaths of individuals traveling along the United States and Mexico border.
Careaga has a long history of firsts. He was the first U.S.-born citizen to receive dual nationality with Mexico in 1998, directly from president of Mexico, Ernesto Zedillo. He was the first person to create and direct a Latino marketing department in major league sports, as the vice president of Latino marketing for the San Diego Padres from 1995 to 2001. He was the first person to be re-elected as president of the San Diego County Hispanic Chamber of Commerce, a position he served in from 1996 to 1998. He was the first U.S.-born man to receive Mexico's National Human Rights Award, presented to him in 2009 by Mexico's president, Felipe Calderon.
Careaga is also the founder of Mexico's Border Commission, established in 2003 under Mexico's president, Vicente Fox. He founded the House of Mexico in Balboa Park in 2002, and in 2008, co-founded the Friends of Friendship Park. In 2006, he founded the historic Marcha Migrante, an annual march to support immigration reform and to remember those who died trying to cross the border.
Border Angels has been internationally recognized for "saving migrant lives." Its mission statement: If I was hungry, did you give me to eat, thirsty did you give me to drink, from Mathew 25:35, exemplifies what Border Angels is all about — loving our fellow man.
He has debated immigration issues in national and international media — including, the "Today" show, "Sabado Gigante," NPR, "Larry King," "Lou Dobbs," "The O'Reilly Factor and HBO. He has spoken at universities across the country, hosted students from around the world and was featured in four films and the best-selling book, The Power of One, the Border Angels Story.