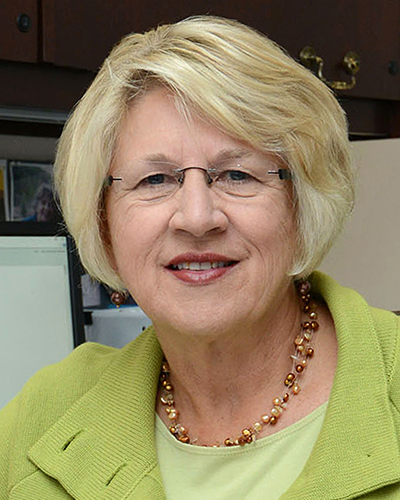 Author E. Hughes Career Achievement Award
Hahn School of Nursing and Health Science
Sandra Solem '84 (MSN), '02 (PhD)
Associate Director, Patient Care Services / Nurse Executive,
VA San Diego Healthcare System
Sandra Solem, PhD, is an associate director for patient care services and nurse executive at VA San Diego Healthcare System, a 304-bed facility providing veterans with a wide range of inpatient services and outpatient care at seven community clinics throughout the county.
Dr. Solem joined the VA San Diego Healthcare System in 2010 after returning to the Veteran Healthcare Administration (VHA) in 2006, following the conclusion of a project as a consultant at Walter Reed Army Medical Center.
Facilitating focus groups with men and women returning from Iraq and Afghanistan, listening to their stories and seeing their ongoing, long-term need for care prompted Dr. Solem to leave her position as chair of nursing at Salve Regina University in Newport, R.I., and return to caring for veterans and their families. The combination of leadership roles in both clinical practice and academia presented unique opportunities to implement clinical practice models of care and change management projects.
Leaders at the VHA asked her to facilitate a veteran-centered partnership model of care in Lexington, Ky., in 2010, as well as the opening of a new VA medical center in Las Vegas, Nev., as the nurse executive in 2013. Currently, her work as the executive sponsor for implementation of Relationship-Based Care and Culture of Excellence at VASDHS, a member of National VA Council on Evidence-Based Practice and a mentor for new nurse executives into the system, keeps Dr. Solem fully engaged in clinical practice and education. She earned her BSN at Montana State University followed by her MSN and PhD in nursing at the University of San Diego.