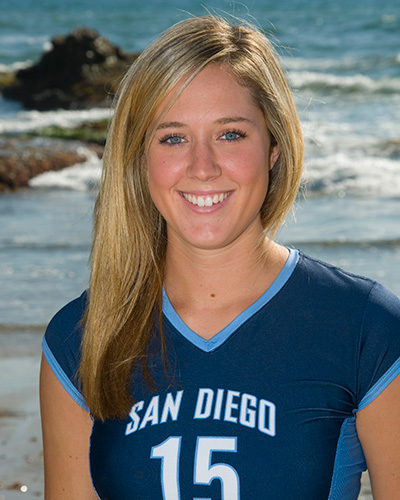 Chet and Marguerite Pagni Family
Athletic Hall of Fame
Ali Troost '11 (BA)
Volleyball, 2007 – 2010
Ali Troost '11 made a huge impact on the USD volleyball program during her four years. The 6-foot-2-inch right-side hitter from Hemet, Calif., was a two-time American Volleyball Coaches Association All-America selection, a two-time West Coast Conference Player of the Year, a three-time WCC first team selection (2008-2010), and the 2007 WCC Freshman of the Year.
During her career, Troost guided the Toreros to three WCC Championships (2007, 2008, and 2010) and to four NCAA Tournament appearances with a second-round showing in 2010. The 2010 team finished 24-6 overall, 13-1 in the WCC, and with a final national ranking of No. 16.  The program's combined team record during her playing career was an outstanding 86 wins and just 26 losses.
Upon graduating in 2011, Troost stood ninth in the Torero record books for all-time kills (1,297) and career hitting percentage (.298).  Following her senior season she was recognized as an Amateur Star of the Year for 2010 by the San Diego Hall of Champions.