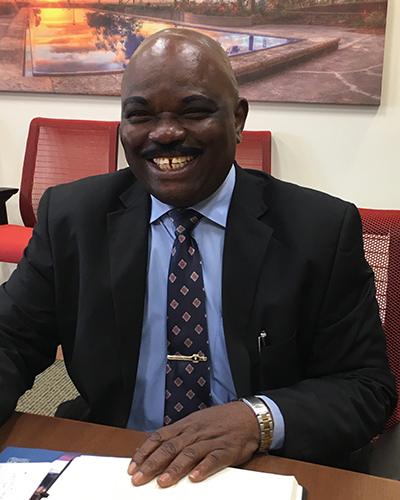 Author E. Hughes Career Achievement Award
Joan B. Kroc School of Peace Studies
The Honorable Roosevelt Z. Willie, BSc, LLB, '11 (MA)
Judge, Criminal Court 'A', Montserrado County, Liberia
President, National Association of Trial Judges of Liberia
Judge Roosevelt Z. Willie was born in Buchanan, Grand Bassa County in Liberia. He graduated with a Bachelor of Science in Secondary Education, from the William V. S. Tubman Teachers' College at the University of Liberia in 1985 and, after teaching for several years, enrolled at the Louis Arthur Grimes School of Law at the University of Liberia, where he earned a Bachelor of Laws (LLB) degree in 2006.
In 2010, Judge Willie received a scholarship to attend the Joan B. Kroc School of Peace Studies where, in 2011, he earned a master's degree in peace and justice, with concentration in human security and international human rights.
He currently works with the Judiciary of Liberia, where he serves as the Judge of Criminal Court 'A' and is also president of the National Association of Trial Judges of Liberia (NATJL), made up of about 500 judges and magistrates. As a judge in Liberia, a country emerging from 14 years civil crisis, one of his major roles is to assist in building and sustaining peace.
In this role, Judge Willie ensures that the rule of law prevails and that everyone is equal before the law regardless of their political, economic, religious and social status. Judge Willie believes the building of roads, bridges, and other infrastructure would be extraneous if the peace already built is not sustained. Accordingly, his administration as president of the NATJL concentrates on judicial ethics and includes human rights topics in the quarterly training of judges.
In 2014, during the administration of Judge James E. Jones as president of the NATJL, Judge Willie along with Judge Joseph S. Fayiah received NATJL's Award of Honor as the judges who were the most hard-working and showed the most integrity.