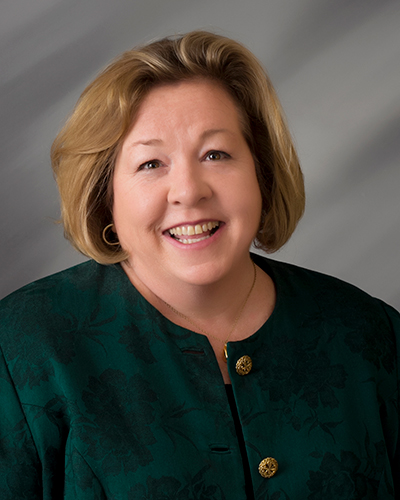 Mother Rosalie Clifton Hill Award
Shannon Smith '86 (BA, BBA)
Correspondent Account Executive, Pacific Union Financial, LLC
Most of Shannon Smith's life paths lead back to University of San Diego and her family's connections to the Sisters of the Sacred Heart. Her mother met Mother Rosalie Clifton Hill at Barat College. Sister Helen Lorch, the inaugural recipient of this award, was the first to welcome Shannon on USD's move-in day. Shannon's aunt, Patricia Howe, was the longest serving member of USD's Board of Trustees. Shannon saw each of these women as strong Catholics, USD servants and guiding lights.
Smith says USD not only prepared her for service, but also taught her the nobility of service. As a student, she was a member of the Zeta Tau Alpha sorority and today still lives by its creed, "To think in terms of all mankind and our service in the world." Since graduation, she has given back to USD with her time, talent and treasure.
Participating on the national Alumni Board of Directors, as well as alumni committees in both San Francisco and New York City, allowed Smith to collaborate with alumni from every era. When she wasn't near USD, she organized Masses at her home church to coincide with the Alumni Mass or planned a viewing party so fellow alumni could help cheer on the Toreros during a televised basketball game.
Smith's greatest USD passion, however, is the Alumni Endowed Scholarship Fund, which she helped establish. Over the last 10 years, the endowment has grown substantially, allowing USD to award nearly 100 scholarships to deserving USD student scholars.
"My most cherished friendships all started at USD," she says. "The nobility of serving the University of San Diego is easy when your best friends show their Torero pride whenever you ask."