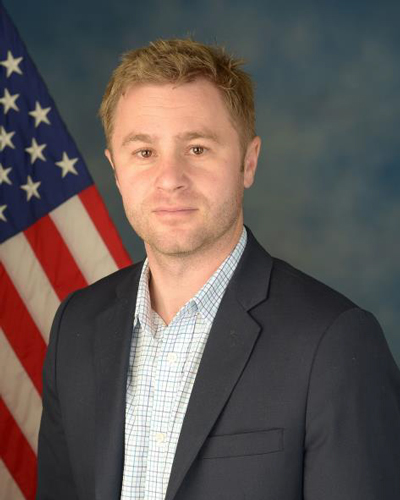 Author E. Hughes Career Achievement Award
Joan B. Kroc School of Peace Studies
John H. Patterson '13 (MA)
Deputy Team Leader for the Venezuela Regional Crisis Response Team, USAID's Office of U.S. Foreign Disaster Assistance
John H. Patterson currently works for USAID's Office of U.S. Foreign Disaster Assistance (OFDA) as a regional advisor for OFDA's Europe, Middle East, North Africa, and Central Asia regional office.
In his six years with OFDA he has also worked as an advisor to the U.S. Southern Command and as deputy team leader (Colombia) for the Venezuela regional crisis response. John served on three other Disaster Assistance Response Teams (DARTs): deploying to the Philippines for Typhoon Yolanda; to Liberia for the West Africa Ebola response; and to Haiti for Hurricane Matthew. He also served on the Response Management Teams for South Sudan and Central African Republic Complex Emergencies, the Ecuador Earthquake in April 2016, the flooding in Peru in April 2017 and Hurricanes Maria and Irma in 2017.
Prior to OFDA, Patterson worked at the Geneva Center for the Democratic Control of Armed Forces, a think tank based in Geneva, Switzerland, where he focused on private security governance. He has also worked for Edify, an Accra-based non-governmental agency focused on educational reform issues, and as a research associate at the University of San Diego, where he co-authored a study on illicit gun trade between the United States and Mexico.
Patterson previously served as a surface warfare officer in the United States Navy from 2004 to 2011, serving on USS Rentz (FFG-46), USS Mobile Bay (CG-53) and as part of the PACOM and PACFLT staffs.
Patterson received his Master of Arts in Peace and Justice Studies from the Joan B. Kroc School of Peace Studies at the University of San Diego in January 2013 and his Bachelor of Science from the United States Naval Academy in May 2004. In 2012, he earned a graduate certificate in International Affairs and Multi-Lateral Governance from the Geneva Graduate Institute of International and Development Studies.