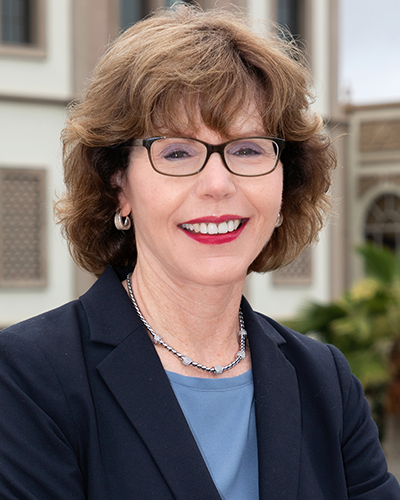 Author E. Hughes Career Achievement Award
Hahn School of Nursing and Health Science
Laurie Ecoff '83 (BSN), '09 (PhD)
Vice President, Center of Nursing Excellence, Sharp HealthCare
Laurie Ecoff, PhD, RN, NEA-BC, CNL, is the vice president of the Center of Nursing Excellence for Sharp HealthCare in San Diego. In this role, she oversees the strategic plan to advance the profession of nursing to achieve exemplary patient, nursing and organizational outcomes.
Dr. Ecoff is also a clinical associate professor in the Clinical Nursing and Executive Nurse Leader Programs at the University of San Diego. She received her Bachelor of Science in Nursing and her Doctor of Philosophy in Nursing from the University of San Diego. Additionally, she received a Master of Science in Nursing Administration from San Diego State University.
Dr. Ecoff is a founding member and one of the lead faculty members for the Consortium for Nursing Excellence, a community collaborative comprised of the major health systems in San Diego. Since 2007, the consortium has provided an annual Evidence-Based Practice Institute, which has influenced patient care outcomes through the professional growth of more than 650 graduates of the program.
Dr. Ecoff is engaged professionally and is an on-site evaluator for the Commission on Collegiate Nursing Education, an appraiser for the American Nurses Credentialing Center (ANCC) Pathways to Excellence Program, and a lead appraiser for the ANCC Practice Transition Accreditation Program. Dr. Ecoff is also actively involved in the Association of California Nurse Leaders and has served on the statewide board of directors, and as president of the San Diego chapter. She is currently committee chair for the 2020 annual conference.