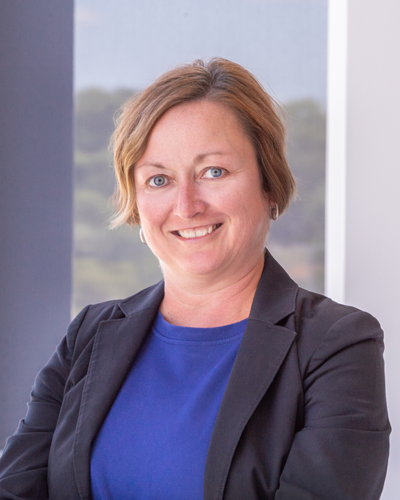 Author E. Hughes Career Achievement Award
Shiley-Marcos School of Engineering
Michaella Wittmann '92 (BS/BA)
Senior Vice President and the Founder and Director of Sustainability, HDR
Michaella Wittmann leads the Office of Sustainability for HDR, a global firm specializing in engineering, architecture, environmental and construction services. She and her team focus on adding value to projects by balancing environmental, economic, and social equity goals. Wittmann also oversees the firm's initiatives to reduce the impact of HDR's own business practices and an associated emissions-reduction goal.
Wittmann has more than 24 years of experience integrating sustainable and climate-resilient solutions into projects ranging from building scale to large-scale infrastructure projects. She has worked with a broad range of clients including state and federal agencies, universities, healthcare organizations and private companies. Infrastructure owners and communities realize benefits including reduced environmental impact, increased productivity, improved quality of life and reduced operations and maintenance expenditures.
Wittmann has worked on more than 20 projects rated under the Leadership in Energy & Environmental Design (LEED) rating system, written sustainable guidelines, trained over 4,000 people in various aspects of sustainability, and integrated sustainability into multi-million-dollar infrastructure projects, many of which are recognized as Envision Sustainable Infrastructure rating system verified projects.
She is also responsible for overseeing the integration of Fitwel Health and Wellness criteria into HDR's own office design, with the goal of improving health outcomes for employees working in HDR offices.
Wittmann is a Fitwel Ambassador, LEED Fellow and Envision Sustainability Professional. She chairs the Envision Review Board for the Institute for Sustainable Infrastructure and represents HDR on the Fitwel Advisory Council.