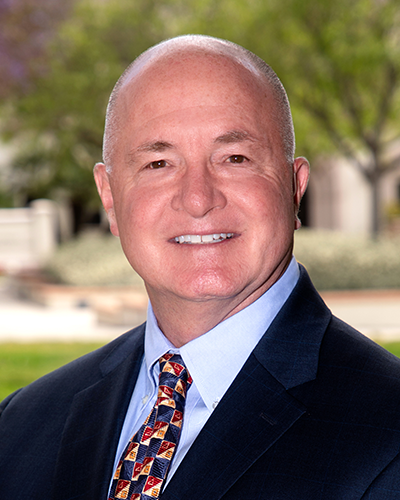 Mother Rosalie Clifton Hill Award

Stephen A. Gauvin '84 (BBA)
Senior Field Sales Representative, Arrow Electronics
Steve Gauvin is a senior field sales representative for Arrow Electronics, where he's worked for 24 years, starting in electronic sales in 1984. He's a five-time President's Club member with the company and for 20 years ran what they called the Swooptronics Wacky Pants Holiday Golf Classic.
Gauvin married his wife, Shirley Banner Gauvin, in Founders Chapel 25 years ago and they live in Coronado, in a house that once belonged to Carol Farrell Burke Couture from the San Diego College for Women's Class of 1951.
As a student, Gauvin was a founding member of USD's chapter of the Sigma Pi fraternity, serving as its first social chair and later as its second president. He was also active in campus ministry, serving as a retreat leader in 1983 and was confirmed in 1984. His passion for being a Torero continued to grow even stronger in the years following his graduation. He was a member of the the Alumni Association Board of Directors from 1985 to 1996, serving on numerous committees and as the board's vice president. He was a board member a second time from 2013 to 2017, once again serving as the vice president and on various committees.
Gauvin and his wife are active in the Sacred Heart parish in Coronado, serving as Eucharistic ministers for more than 25 years. They took part in Cursillo in the early 1990s and now lead Cursillo weekends at their church. They also mentor engaged couples and have led parish family camp for many years.
They are the proud parents of three daughters, Katy, 23; Carolyn, 22; and Lauren, 18.